LG monitors have some of the best IPS displays and performance in the market. Their displays are so great that even Dell, Apple and Samsung use LG panels in their own monitors. However, only a few LG monitors have built-in speakers. This article discusses if the LG monitor range have integrated speakers.
Do LG Monitors Have Speakers Built-In?
Not all LG Monitors have built-in speakers. Most older models tend to not have speakers, while high-end newer LG Monitors do. Most LG monitors support external speaker connectivity via a headphone jack.
How To Tell If Your LG Monitor Has Internal Speakers?
The easiest way to confirm whether a LG monitor has internal speakers is to check the monitor's user manual.
If you don't have the owner's manual, do a Google search for your make and model or series of your Monitor and the word "manual". Then search for "speaker" on the page to see what results appear.
Model numbers are a long series of letters and numbers that can be found at the back or the underside of the display.
Another great option is to visit Amazon and check the specifications of your exact model. You can also visit the LG website.
You can enter the model number at the top of the page in the search bar and when you've found your model, select it. Scroll down to to download the user manual which provides all the details for your model. If the specs say that built-in speaker, then you have your answer!
Another option is to check directly on your monitor settings screen. LG Monitors have the physical buttons positioned on the bottom of the monitor bezel, generally in the middle or on the right side.
Usually one of these buttons is to power the display on and off and another to take you to the monitor settings. You might have more than 2 on your display though.
Use the buttons to navigate through the settings to find "Audio", "Sound" or "Misc" settings. If you find these, it's very likely that these settings are for the sound coming out of your monitor.
How To Enable LG Monitors Built-in Speakers?
If your monitor has external speakers but you're struggling to get it to work on your computer, then here are the steps you can follow to get your LG monitor's internal speakers to work.
Note: Once you know your monitor can play audio, make sure that your monitor audio settings are configured to allow playback. As mentioned previously, use the buttons on the monitor to navigate through the settings to find "Audio", "Sound" or "Misc" settings. Here, make sure that the monitor volume is turned all the way up and audio playback is not muted.
On Windows
Click the start menu in the lower-left corner of your screen.
Type "Sound" in the search bar and select "Sound" (Control Panel).
In the Playback tab, select the speaker for sound output – Your monitor in this case.
On Mac
Connect your Mac to your Display.
On your Mac, navigate to System Preferences, click Sound,

then click Output.

Select, your Device for sound output – Your monitor in this case.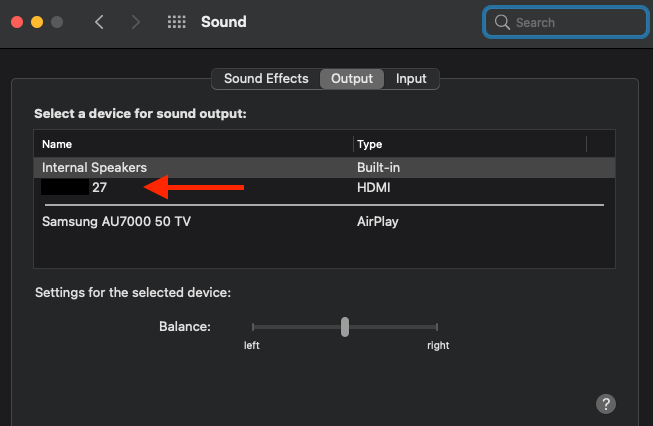 Are Internal Monitor Speakers Actually Any Good?
Typically, monitor speakers produce sound that is very muffled and cannot compare to the clarity and volume of external speakers. They can certainly do the job for simple audio listening.
However, there are lots of benefits to taking into account a monitor with built-in speakers. There might not be room in a desk for external speakers, or you might not want cables to be visible. Some people prefer a minimal desk setup with at few devices as possible to be visible.
What To Consider When Buying A Monitor With Internal Speakers
In general, the sound quality of most monitors on mid-range to low-end models is pretty mediocre. But there are monitors out there which sound crisp which can be indistinguishable from external speakers.
The first thing to look for is the wattage of the built-in monitor speakers. The higher the wattage (or power), the louder and cleaner the speakers will play. Any computer monitor with more than 5 watts should typically produce reasonable sound quality.
Secondly, when using PC monitors, sound quality must be compared to the display's quality and intended use. Monitor speakers won't matter as much to gamers as G Sync, Freesync, or a high refresh rate display. On the other hand, the monitor's speakers and display quality may be equally important whether you simply browse the internet or use it for daily work.
Thirdly, finding a good computer monitor with a really great set of built in speakers will come at a higher price tag. Is this really worth it for you, or can you rather spend a few bucks on a set of earphones or external speakers?
Great Ways To Get Sound From LG Monitors Without Built-in Speakers
If your LG monitor doesn't have built-in speakers but you're looking to play audio, then theres several external speakers which are very affordable and you can connect them directly to your laptop or PC's headphone jack.
These Amazon basics external speakers are plug-and-play and have superior sound quality than some monitors!
Conclusion
Some LG Monitors have built-in speakers, but not all models. Some newer models have built-in speakers while older models do not. To find out if your monitor is capable of sound output, then the easiest way to confirm is to check the monitor's user manual. If not then external speakers these days are affordable and you can find them in all sizes.
If you experience any trouble in getting your LG monitor sound working, then try looking at LG support page or call LG's customer support at 850-999-4934.