If you are renting an apartment or the apartment or flat is not your own, you may face several issues, including the amenities in your property. Tenants in many rental apartments are frequently confronted with an old and inaccurate thermostat, which leads to excessive energy usage and high costs.
Many smart device manufacturers, such as Nest, Ecobee, and Honeywell are changing the way we heat and cool our homes and apartments.
Whether you have recently moved into a rental apartment and noticed the outdated thermostat or if you are concerned about the costs and energy usage in your property, renters may ask, "can I install a Smart Thermostat in my apartment and will my landlord allow me to do the installation?"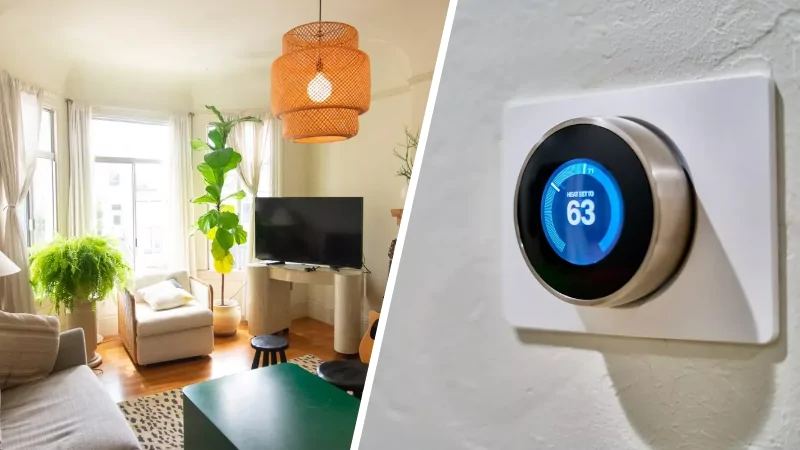 Can You Install A Smart Thermostat In An Apartment?
As a general rule, it's possible to install a Smart Thermostat in a rental or shared apartment, but it is advisable to discuss with the landlord before proceeding. If you already have a thermostat in your apartment, it can be replaced with a smart one.
A smart thermostat can be installed anywhere where a traditional thermostat can be installed, so the wiring in your apartment will prohibit a smart thermostat from working.
The landlord, on the other hand, may object you from making improvements and changes to your apartment. As a result, the landlord ultimately decides whether or not you can use a smart thermostat in your unit.
Installing a nest thermostat in an apartment requires the removal of the previous traditional thermostat and the installation of the new thermostat into the apartment's electrical wiring.
Although mart thermostats such as the Google Nest are simple to install, they require some knowledge of installation and can be difficult if you are unfamiliar with electrical wiring.
If you're going to tinker with wiring, you should find out what your landlord's policy is first.
Landlords are legally accountable for making sure that all of the home's fixtures are safe and up to code. Some landlords find it easier to simply restrict renters from making any changes, while others may allow you to carry out modifications as long as you first ask for permission.
Should your landlord agree to you installing a smart thermostat in your apartment, you will almost always be required to remove the new thermostat and replace it with the old one when you do move out, therefore you must maintain the old thermostat, accessories, and wiring in a safe place. This will prevent the cost of reinstalling the previous thermostat from being deducted from your security deposit.
If you and your landlord are happy to proceed and you are aware of the possible implications, there are several smart thermostats on the market for various budgets which can all be relatively easily installed.
What is a Smart Thermostat and how does it differ from the Traditional Thermostat?
Smart thermostats also referred to as digital thermostats, give you complete control over your heating system regardless of where you are. A traditional thermostat allows you to manage the ambient temperature from a control pad on your home or apartment wall. If you need to change the heating or cooling, you simply locate the thermostat control pad and adjust it to your suited temperature.
A smart thermostat, on the other hand, has many more bells and whistles that give you more control and useful features. Smart thermostats can provide data about energy usage trends, as well as allowing for a high level of customization with the heating and cooling, saving you money, and much more which we cover below to help you make an informed purchase decision.
The good news is that smart thermostats operate in the same way as traditional thermostats at the core. You can use a smartphone app to manage the device, as well as using a touch-based interface on the device itself, which is beginner-friendly and works similarly to a regular thermostat.
As users become more familiar with the app, they often choose to regulate the temperature using traditional controls. This function protects you from the inconvenience if you lose Wi-Fi connectivity or misplace your phone for a lengthy period, such as during a rainstorm or routine maintenance in your region.
What are the benefits of installing a Smart Thermostat?
Here we compare the pros and cons of choosing to install a smart thermostat in your apartment.
Pros
Cons
Which thermostat is right for my apartment (Smart or Traditional)?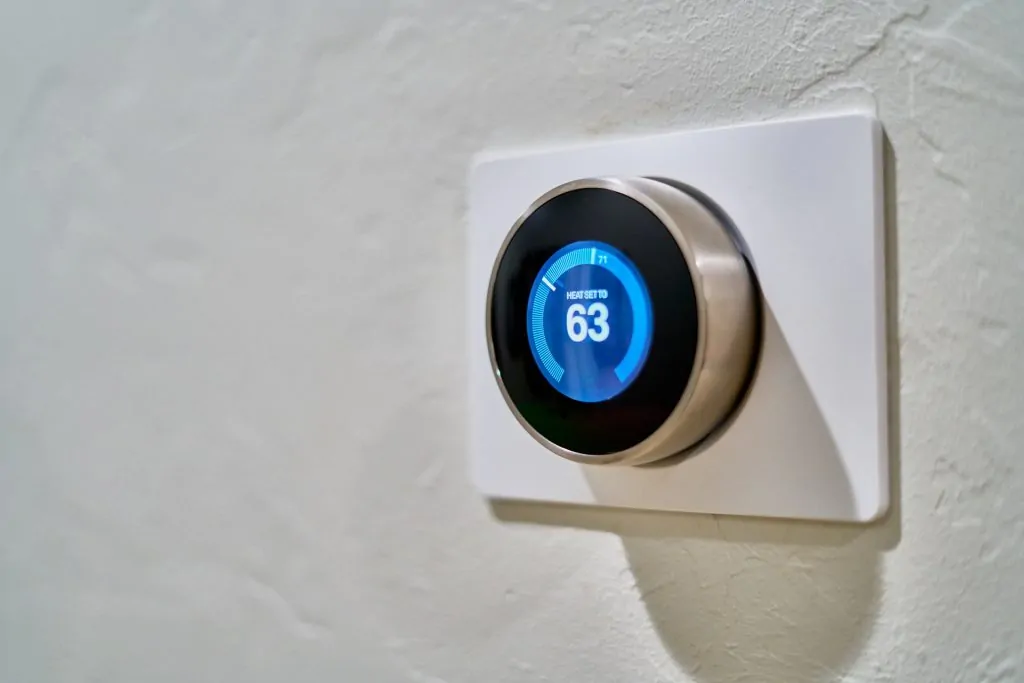 More often than not, your apartment would have a traditional thermostat installed which controls the AC and heating. We rarely give this device more than a few seconds of thought, other than periodically turning a dial and hitting a few buttons.
Although the standard traditional thermostat lacks many of the features of a smart thermostat, it is less expensive. You will still be able to control the heating in your home but without the precision and convenience of a smart thermostat.
A factor that many people do not consider when asking "which thermostat should I get?" is that ultimately a smart thermostat will save you money and energy for the long term. With these devices being more aware of your heating patterns and having more control ultimately aids in the creation of the ideal home atmosphere, allowing you to live a stress-free life.
How to find the best thermostat for an apartment?
You should research before purchasing a smart thermostat since each one will have slightly different functions and the one you select should cater to your requirements. The Nest smart thermostat is a favorite among many since it is reliable and provides many functions and is simple to install out of the box. When selecting a smart thermostat for your apartment, there are various factors to consider. We explore 3 important factors below.
Ease of installation
Installing the best appliances and devices should always be simple. Even if a professional electrician is required, it is preferable if the system is simple to install, maintain, and even repair.
Most smart thermostats come in a DIY kit that simply requires mounting on a wall or plugging into a power outlet. Models that are easy to set up and manage will save you a lot of time, effort, and money in the long run.
Cost
The smart thermostat's price is mainly determined by its functionality. Before you buy one, consider if you are willing to pay for some of the thermostat's extra functions and if you do need them. If you do not need the additional features you should opt for a less expensive model.
Programmability
Every homeowner prefers the option to set their thermostat temperature once, and have the thermostat use that setting to regulate temperatures at appropriate times without human interference. There are three types of thermostats to pick from, depending on how much programmability you want. The smart thermostat, programmable thermostat, and manual thermostat are examples of these.
Programmable thermostats enable you to set different temperatures for different times of the day. Manual thermostats or traditional thermostats are far less technical, requiring you to select the desired temperature and then manually adjust it when necessary.
The smart thermostat is at the top of the list in terms of convenience and programmability, followed by the programmable thermostat and finally the manual variants.
How to install a Nest Smart Thermostat in an Apartment
If you think a smart thermostat is perfect for your apartment after considering all of these aspects, there's no reason not to buy one and install it. Even though several smart thermostats are compatible with many HVAC systems, you should confirm this before you buy one. If you're looking at buying a Nest thermostat you can view the Google Nest compatibility tool to help you determine if it is compatible with your heating and cooling system.
After you have received permission from your landlord, the first thing you should do is take a few pictures of the existing thermostat wiring for reference of compatibility and for your records as you will need it to hook up the old one when you eventually leave the rental.
The following are step-by-step instructions to install a Nest thermostat (or similar smart thermostat) in your apartment.
Firstly make sure that your current heating and cooling system is working properly before you being. Once you have confirmed everything working with your old thermostat without any issues, you can move to the installation of the New Nest thermostat.
Note: if your existing thermostat is connected to thick wires, or 110V 120V or 240V do not connect these wires to your Nest thermostat as your system is not compatible.
Step 1: Turn off the power
Turn off the power to the apartment's heating and cooling system via the circuit breaker box or you can turn off the main power switch. This will protect it during installation. In general, tenants have a legal right to access circuit breaker panels at all times, but this varies by state. Some circuit breakers may be easier to get to than others. If you're going to tinker with the wiring, make sure that you can turn off the power to the heating and cooling system first.
Step 2: Remove old thermostat
Remove the front of your old thermostat to check the type of system that you have. The Google Nest compatibility tool can help you determine the type of system that you have. Take a picture of the thermostat wiring with your phone so that you can reference it later if you require.
Now, check if the thermostat is connected to thick wires, or labeled with 110V 120V or 240V. If either of these conditions is present, you have a high voltage system that may be incompatible with Nest thermostats. In this case, do not connect these wires to your Nest thermostat as your system is not compatible.
Once you have checked that your system is compatible, the old thermostat wires should then be marked to match the appropriate wires on the Nest thermostat, and the old thermostat should be gently removed.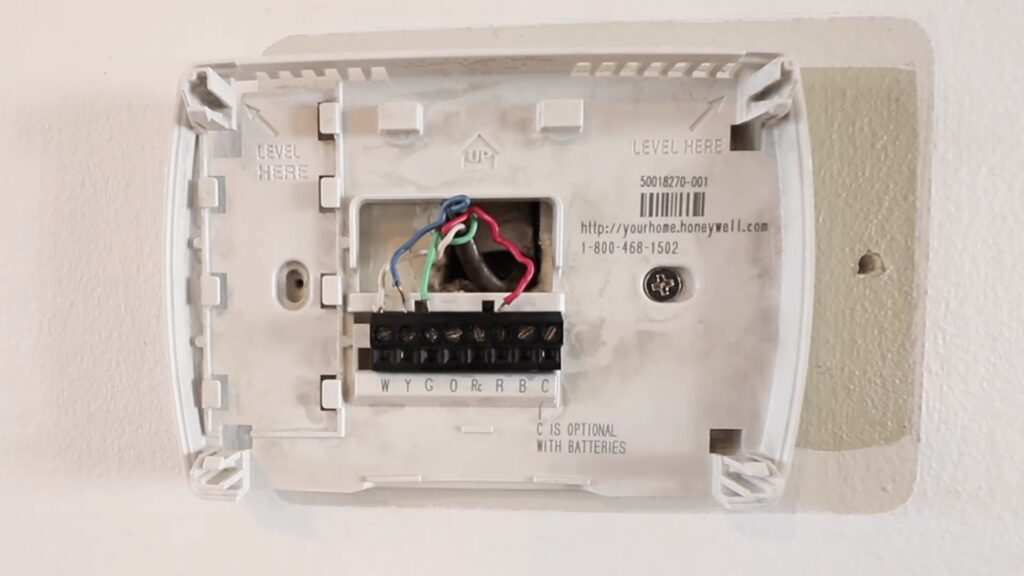 Step 3: Install the Nest thermostat trim kit (Optional)
If you purchased a Nest Trim Kit, you will need to install it first before installing your thermostat. This is useful If your old thermostat left a hole or an unpainted area of the wall, then the trim plate can be used to install the Nest thermostat. The trim plate is optional but it does keep everything tidy. If you're looking to spruce up the backplate trim to match your home interior, POPMAS has beautiful decorative plates which are well-milled solid pieces of metal that pair with the Nest thermostat perfectly!
Step 4: Install the base plate and wiring
Double-check that the power is turned off. When you connect the base plate with the self-tapping screws and install the wiring, ensure the connector button stays pressed down after inserting each wire. Reconnect the wires according to your HVAC and the purpose of each wire.
Step 5: Connect the Nest display face
You'll need to add the Nest display after you've completed reconnecting the wires. Connect the display to the base, and you should hear it click in place. The thermostat has now been set correctly.
Step 6: Turn on the electricity
The final step is to activate the circuit breaker or the main switch and test the new Nest thermostat. You should be good to go once you've installed your smart thermostat.
The guided video below will assist you to install the Nest thermostat if you still have any issues.
Frequently Asked Questions
Can you install a Nest thermostat without a WiFi connection?
u003cstrongu003eIf you do not have a wifi connection in your apartment, the Nest Thermostat can function as a standard thermostat even if it is not connected to the internet. u003c/strongu003eThe disadvantage is that you will not be able to use smart or remote capabilities if you don't have access to Wifi.
Is the Nest thermostat worth the purchase?
Many smart thermostat manufacturers spell out how much money you can expect to save on your energy bills after installation. Nest claims that when its subtle, habit-changing features are combined with its sophisticated learning over time, it could u003cstrongu003esave $130-145 per year on your energy billu003c/strongu003e. This implies that if you just use the Nest Thermostat as directed, it will pay for itself in under two years.u003cbru003eu003cbru003eTaking into account buying the devices when they are on sale, and potential rebates from various power companies, the return on investment delta may occur even faster.
Other smart devices that you can install to help you manage the temperature in your apartment
Crane Infrared Smart Heater
This smart heater is both smart and energy-efficient, using significantly less energy to provide warmth. With the Crane Infrared Smart Heater, you can control and manage this heater with an app for your smartphone. Overheating prevention, allergy-safe, and clean are among the device's other characteristics.
The system is quiet and features a minimal appearance as well as a child lock for maximum safety around children and pets.
Sensibo Sky – Smart Air Conditioner Controller
The Sensibo Sky Smart Home Air Conditioner System features small receiver pods that connect to your air conditioner and is controlled by a router-connected hub. It is a handy and inexpensive device for smartening up your air conditioner.
You can adjust your air conditioner's temperature, set timers, and turn it on and off, even if you're not at home. The device also links with Amazon Alexa and Google Home.
Heat Storm HS-1500-PHX-WiFi Infrared Heater
The Heat Storm Infrared Heater is a wall-mounted Wifi enabled heater (Optional feet available from Manufacturer) which is an excellent choice for any compact bedroom or area with limited floor space. This 1500-Watt heater will quickly heat your room, and you won't have any trouble tripping your breaker if you need to operate other electronics.
This heater is completely safe to touch, even when used on the grill, making it an excellent choice for anyone.
Wrapping Up
Although a smart thermostat is an excellent addition to any apartment or home, if you are renting, you must first check with your landlord and obtain permission to install the thermostat to prevent additional fees and hassles and maintain your security deport.
If you are uncomfortable installing the thermostat and tinkering with your rental apartment's wiring, to ensure optimal safety, you should hire a skilled specialist to complete the installation process.
If your landlord objects to your thermostat installation, you still have several options for controlling your bill. If you intend to stay in that apartment for an extended period, a smart thermostat can save you a lot of money in the long term.